Media release: Revolutionary new vegan burger that looks, cooks and tastes like beef causes a frenzy
Media release: Revolutionary new vegan burger that looks, cooks and tastes like beef causes a frenzy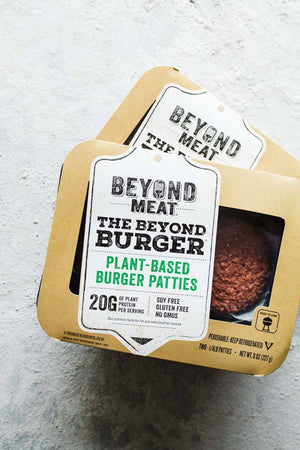 The Beyond Burger, the world's first plant-based burger that looks and tastes like animal meat has recently become available in Australia, causing a frenzy among vegans, vegetarians and ethically conscious consumers.
The Cruelty Free Shop Company Director Jessica Bailey said the Beyond Burger looks exactly like a raw beef patty and is a "game-changing" food.
"Beyond Meat has manufactured a revolutionary vegan burger that has all the juicy deliciousness of a traditional burger without the health, environmental and animal rights issues of animal-based meat. It's packed with 20g of plant-based protein, from peas, and even appears to bleed from the beetroot in the patty," Jessica said.
Jessica said it was a viable alternative product for meat lovers.
"Now that we have a plant-based burger that looks, cooks and tastes exactly like beef, there's no reason for people to eat animals. Times have changed and vegans no longer eat boring, bland food." 
It took seven years for Beyond Meat to develop the Beyond Burger. It's GMO, gluten and sugar free and its nutritional properties are very impressive when compared to beef patties. 
Source: Beyond Meat
The Cruelty Free Shop stocks more than 3500 vegan products, including 60+ vegan cheeses, many of which are high-end handmade artisan cheeses that rival even the best dairy cheeses.
Vegan food manufacturing is experiencing significant growth. According to data from Euromonitor International, Australia's packaged vegan food market is currently worth almost $136 million and is set to reach $215 million by 2020.
Australia has the fourth largest vegan food labelling market ($136 million) following the US ($1.75 billion), Germany ($614 million) and Brittan ($507 million).
The Cruelty Free Shop is Australia's first and only vegan supermarket chain with shops in Melbourne, Sydney, Brisbane, Canberra and online at crueltyfreeshop.com.au
The Melbourne Cruelty Free Shop is the largest vegan shop in the southern hemisphere.
-ENDS-