Banoffee pudding
Banoffee pudding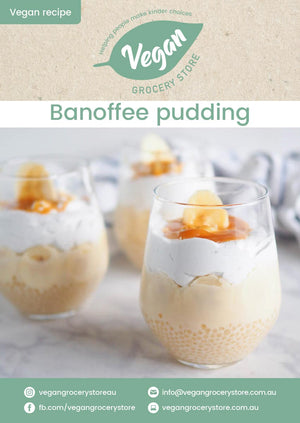 Serves 4 | Recipe by @likeavegan
Ingredients
1L water
2⁄3 cup seed tapioca/sago
1 cup soy milk (we like Happy Soy Boy)
1 tsp vanilla extract
2 tsp banana extract
Pinch of salt
1 banana, sliced
Squeeze of lemon juice
Directions
Refrigerate whipping cream overnight
Bring water to the boil in a large pan and add tapioca. Reduce to a simmer and cook for 15 mins, stirring frequently to prevent sticking
Once tapioca is almost clear, remove from heat and strain. Rinse well with cold water and add to a large bowl
Rinse pan and add condensed milk, soy milk, vanilla extract, banana extract and salt
Whisk over a medium-high heat until boiling, then reduce to a simmer for a further 5 mins
Pour mixture into the bowl with the tapioca and mix well
Spoon into 4 glasses and allow to set in fridge for 2 hrs
Once set, slice up banana and coat with lemon juice to prevent browning. Add a layer of banana slices to the top of each tapioca pudding (leave some aside for decoration)
Use a mixer to whip cream until light and fluffy. Pipe into the glasses. Drizzle on caramel sauce and decorate with banana slices.
---
Recipe cards available free in store!
← Previous Recipe Next Recipe →