Moussaka
Moussaka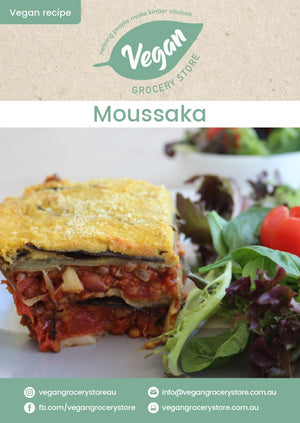 Recipe by Amandine Feuvrier
Ingredients
2 medium eggplants, cut into 1cm slices
2 medium potatoes, cut into 1cm slices
1 onion, diced
2 garlic cloves, chopped
2 x 400g cans diced tomatoes
400g can lentils
2 bay leaves
Salt & pepper
Mixed Italian herbs
Olive oil
Directions
Preheat oven to 200C.
Brush eggplant and potatoes with olive oil on each side. Cook in oven on a baking tray for 20-30 mins until brown but not dry. Turn halfway through. Remove and reduce heat to 180C.
Heat 1 tbsp olive oil in a saucepan then saute onion and garlic for 5 mins.
Add legumes and cook for 4 mins. Add tomatoes and simmer for 15 mins or until reduced.
Add bay leaves and season to taste with salt, pepper and mixed Italian herbs. Cook for 5 mins.
In an oven dish, make a layer of potatoes. Add a layer of tomato sauce and a layer of eggplant. Repeat until sauce is used up. Make 1 serve of cheese sauce mix following the packet's instructions. Add a layer of cheese sauce mix to the dish.
Bake for 15 mins, sprinkle parmesan on top then bake for another 5 mins. Serve with salad.
---
Recipe cards available free in store!
← Previous Recipe Next Recipe →