Corn fritter
Corn fritter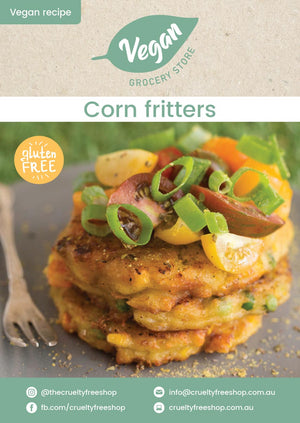 Recipe by Vegan Easy
These corn fritters are quick, easy and tasty! They are the perfect meal for fussy little eaters.
Ingredients
400g can creamed corn
400g can corn kernels, drained
2 cups chopped vegetables of choice (we recommend peas, carrots & capsicum)
½ cup chickpea (Besan) flour
½ cup savoury yeast flakes
Salt & pepper
Oil for frying
Directions
In a mixing bowl, combine all of the ingredients until a thick batter forms.
Add ¼ cupfuls of the mixture into an oiled, hot fry pan. You'll need to cook the fritters in batches.
Cook for 3-5 mins or until brown, flip & cook the other side.
Repeat steps 2-3 until the mixture runs out. Serve with salad.
---
Recipe cards available free in store!
← Previous Recipe Next Recipe →